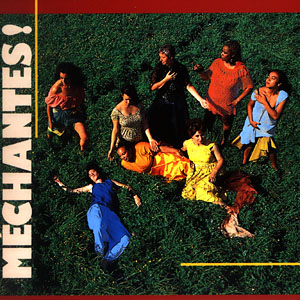 The french Mechantes project and its CD.
Dans sa logique de chaîne de développement, l'AMI (Aide aux musiques innovatrices) a invité en 1993 la chanteuse écossaise Maggie Nichols à créer un groupe vocal féminin avec des chanteusesmarseillaises, débutantes ou confirmées, de différentes communautés. Le résultat de cette résidence tenue à la Friche Belle de Mai est un groupe constitué, d'une formidable énergie, d'une grandeforce émotionnelle. Les sept jeunes femmes qui le composent ont chacune leur histoire à mettre en scène et de ces itinéraires différents, Maggie a sû créer, avec une grande pudeur, une très bellepromenade, à l'ombre des musiques ethniques, de l'improvisation, de l'engagement, de la fête.
"Ceci a été une des expériences les plus importantes de ma vie, comme si j'étais arrivée dans unemaison pleine de passion et de sensibilité, où nous recherchions comment être aussi libres que possible, à travers des attitudes qui se connectent chacune à sa manière." Maggie Nichols
Search Engines
AltaVista You know us as the Internet's original search engine.
Lycos One of the most visited hubs on the Internet reaching one out of every two web users.
Alltheweb This is our favorite. The search engine on most search engines with a more extended variety of results (compared to GOOGLE).

Favorite Sites
Maggie Nicols' homepage Still under construction.
Irene Schweizer Discography (Not all but all essential) recordings by pianist Irene Schweizer.
Lindsay Cooper Discography Did You know that there is a male Lindsay, too?.
Joelle Leandre Discography A good discography containing also new music stuff and books by Joelle Leandre.
The Area of "Canaille" Some hints on essential recordings of women who partizipated in the Canaille festivals from the 1980's to 2000.
Musicians' Gathering A weekly gathering in a welcoming environment where experienced musicians use their skills to encourage rather than exclude others.
Buch & Ton Get the Canaille 91 CD here!
The Loft in Cologne A good place to hear music. Maggie did a fantastic solo performance here.
Musikprojekte von Frauen Instructive German essay on female music projects.